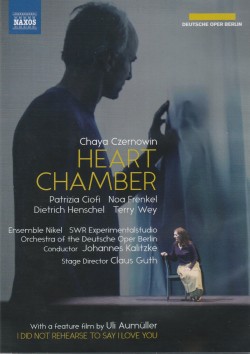 Chaya Czernowin – Heart Chamber
Patrizia Ciofi; Noa Frenkel; Dietrich Henschel; Terry Wey; Ensemble Nikel; SWR Experimentalstudio; Deutsche Oper Berlin; Johannes Kalitzke
Naxos 2.110673 (naxosdirect.com/search/2110673)
A woman drops a jar of honey on a busy stairway. A stranger picks it up and gives it to her. Their hands touch. From that chance encounter results the complicated love affair that the much-performed Israeli-American composer Chaya Czernowin explores in her brilliant new opera, Heart Chamber.
With tangible immediacy, she tightly interweaves her music with her own libretto. It feels organic, pertinent and real – like life itself. Past traumas and present dreams drive the two unnamed characters to ask each other tough questions like "Will you open up my life?" and "Will you always stay?" Layers of gorgeous sonic textures suggest the possibility of happiness for them. But there's a lot of pain as well, reflected in angular, primal episodes.
I can't imagine these characters portrayed with more conviction and poignancy – and technical dazzle – than by soprano Patrizia Ciofi and baritone Dietrich Henschel. Ciofi wears her apprehensions with playfulness and, in spite of her unfortunate costuming, allure. Henschel shows how charismatic vulnerability can be.
As the woman's internal voice, contralto Noa Frenkel eloquently exposes her most intimate subconscious feelings. The man's internal voice, powerfully sung by countertenor Terry Wey, is as candid as his female counterpart. But he's less demanding, so causes less trouble for his character.
This is the third opera by Czernowin that Claus Guth has directed. Like his production of Mozart's The Marriage of Figaro seen at the Canadian Opera Company in 2016, it's set on a stairway. But here, unlike the controversial Mozart production, the relationship between Guth's concept and the work itself is seamless.
Conductor Johannes Kalitzke deftly commands the large assemblage of remarkable musicians, with the orchestra of the Deutsche Oper Berlin and Czernowin's frequent collaborators, the new music group Ensemble Nikel, enhanced by vibrant electronics from SWR Experimentalstudio.