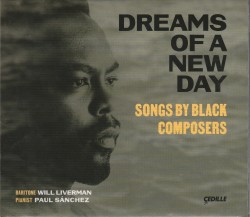 Dreams of a New Day – Songs by Black Composers
Will Liverman; Paul Sánchez
Cedille CDR 90000 200 (cedillerecords.org)
Dreams of a New Day – Songs by Black Composers is an album that features art songs by eight composers. From Henry Burleigh (1866-1949) to Shawn E. Okpebholo (b.1981), the album showcases several generations of composers and a repertoire that offers an honest, and, at times, devastating, account of life for African Americans in the United States. Composers set music to texts of raw poetry by American poets and artists such as Paul Laurence Dunbar, Langston Hughes and Adela Florence Nicolson.
Paul Sánchez captures our attention with a breadth of pianistic sonorities and timbres while baritone Will Liverman's skilled and beautiful singing elicits all of the nuances of challenging topics that include the Middle Passage, Civil Rights, past and present injustices, and Black pride. Most poignant are Okpebholo's Two Black Churches songs (Ballad of Birmingham and The Rain, commissioned for the album) and Birmingham Sunday (Richard Fariña 1937-1966). Whereas the first pair combines several tragic events and deals with race-based violence, the last song reminds us that while dreaming of a new day, the road to equality for all is still ahead of us.
The booklets included with the album provide both context and the rich history behind the repertoire with a 15-page song booklet and a 20-page extensive program note booklet written by Dr. Louise Toppin, a specialist of African American composers' concert repertoire.