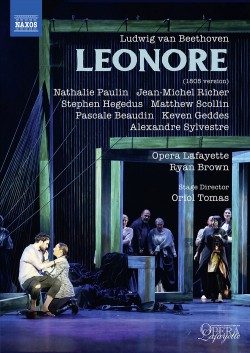 Beethoven – Leonore (original 1805 version)
Nathalie Paulin; Jean-Michel Richer; Opera Lafayette; Ryan Brown
Naxos 2.110674 (naxosdirect.com/search/2110674)
Staging the very first (1805) version of Beethoven's only opera, then still referred to as Leonore, begs some questions: Why now, in its three-act format, when the maestro himself revised it and reduced it to two-acts, when Leonore failed twice before finally getting the recognition it deserved in 1814 and that as a considerably revamped Fidelio?
You will find several answers in the meticulously detailed booklet notes by Nizam Kettaneh, co-executive producer of this performance. A more compelling historical reason comes from Beethoven himself who, while forever wrestling with a political-philosophical credo, quite fittingly continued to refer to the opera using its full, preferred, name: Leonore, oder Der Triumph der ehelichen Liebe. The original production may also have been shortened for political and commercial rather than purely artistic reasons; after all, it first played to a French audience which reportedly didn't care much for German opera. Thus Beethoven may have reacted by making the 19th-century version of what composers today might call a "radio-friendly edit."
And then there's this compelling performance itself. At the hands of Opera Lafayette, Leonore flares to life as if for the first time. Ryan Brown conducts the opera with a muscular fervour to proclaim the youthfulness of Beethoven's masterpiece. Jean-Michel Richer's Florestan is splendid and Nathalie Paulin's Leonore/Fidelio is breathtaking. The prisoner's chorus is soul-stirring. Best of all, the themes of unselfish love, loyalty, courage, sacrifice and heroic endurance all shine brilliantly throughout.