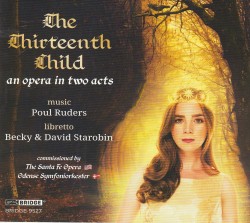 Poul Ruders – The Thirteenth Child
Soloists; Odense Symfoniorkester; Bridge Academy Singers; David Starobin; Benjamin Shwartz
Bridge Records 9527 (bridgerecords.com)
The Thirteenth Child is an opera in two acts by Danish composer Poul Ruders (The Handmaid's Tale) with a libretto by Becky and David Starobin. Performed by a large cast of excellent soloist singers, the Odense Symfoniorkester and the Bridge Academy Singers, the opera is based on the Brothers Grimm fairy tale, The Twelve Brothers.
The Thirteenth Child follows Princess Lyra's quest to find her 12 exiled brothers and bring them home to save the kingdom. The singers are all excellent and their vocal abilities are displayed throughout the opera via the modern and challenging parts written for them, often covering extreme tessitura on both sides of their vocal range. This is especially evident in the several falsetto effects sung by the two bass-baritones.
The opera is fast paced and action packed with spells and adventures of good versus evil mixed in with tragedy and triumph. The cast of principals is large and the opera runs a short 77 minutes. As a result, the characters are not as developed as they could be and this makes meaningful audience engagement challenging. It may be that adding a third act could not only resolve this but would also allow for the story to be modernized and for Ruders to showcase more of his capable writing as he does for Princess Lyra and her suitor Frederic.
Commissioned by the Santa Fe Opera and the Odense Symfoniorkester, The Thirteenth Child was recorded in Denmark and New York. It was premiered in Santa Fe, July 2019.