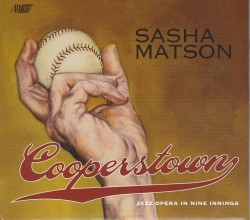 Cooperstown – Jazz Opera in Nine Innings
Daniel Montenegro; Carin Gilfry; Rod Gilfry; Daniel Favela; Julie Adams; Band; Sasha Matson
Albany Records TROY1848 (albanyrecords.com)
Cooperstown: Jazz Opera in Nine Innings, is scored for a 1950s-style jazz quintet and five singers. The composer is Sasha Matson with libretto by Mark Miller, inspired by A. Bartlett Giamatti's essay The Green Fields of the Mind. Although this story takes place at the ballpark, it features all of the elements of a great opera: Angel, from impoverished Santo Domingo and newly raised to the majors as a pitcher, falls in love with Lilly from the Upper East Side. Undermining their romance is Marvin, the aging pro catcher and Jan, the jealous sports agent in love with Angel. The dual love of baseball and romantic love stories unfolds as the team manager, Dutch, attempts to manage the relationship struggles to focus on winning games.
In the liner notes Matson describes in detail the recording process that allowed his team to capture sounds reminiscent of the original Blue Note recordings (microphone choices, specific recording and mixing equipment). The result is an outstanding listening experience: the sounds are rich and full but the music is as close and detailed as it would be in an intimate luscious jazz lounge. The classically trained voices are gorgeous and skillfully blend in with the jazz quintet. Each scene (inning) is bookended by a short and seamless transition in the form of an instrumental jazz chart played with impressive skills by musicians of the jazz quintet. Cooperstown might perhaps be more at home on a theatrical stage than at the opera house but it is a top-shelf musical experience.