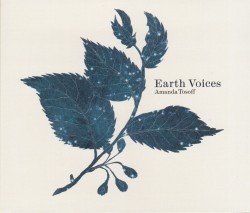 Earth Voices
Amanda Tosoff
Empress Music EMG702 (amandatosoff.com)
Toronto-based piano player and composer, Amanda Tosoff, has just released a stunning new collection of songs that blurs the lines between jazz and art song. Cleverly marrying texts by classic poets such as Pablo Neruda and Rumi, with her own and others' compositions, plus drawing on the talents of seven different singers, a string quartet, two sax players and a jazz trio, Tosoff has given us a very rich body of work.
Opening with the powerful combination of Tosoff's composition, Edgar Alan Poe's words and Emilie-Claire Barlow's singing, A Dream Within a Dream is one of the jazzier pieces on the album. With sax by Kelly Jefferson and Allison Au, and Jon Maharaj (bass) and Morgan Childs (drums) filling out the rhythm section, it's lively, complex and thought-provoking. The middle part of the album is more in the art song vein and I found myself especially drawn to these songs with their interplay of piano and strings and voice. Birdwings, based on a Rumi poem and beautifully sung by Alex Samaras, also has Tosoff stretching out a bit with a lyrical piano solo. Oh, Life (written by Mike Ross), featuring cello (Beth Silver) and violin (Aline Homzy) plus Laila Biali's and Samaras' beautifully blended voices add to the poignancy of the lyrics. To a Stranger, written by Tosoff and based on a Walt Whitman poem, is spare and gorgeous with just a string quartet and Felicity Williams' ethereal singing. A Canadian album devoted to poetry wouldn't seem complete without a Joni Mitchell tune and her early anti-war song, Fiddle and the Drum gets a strong reworking centred around Lydia Persaud's solid vocals.