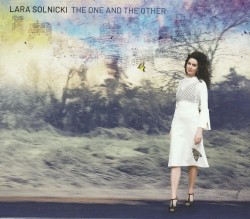 The One and the Other
Lara Solnicki
Outside In Music OiM 2013 (larasolnicki.com)
Multi-gifted vocalist, composer and poet, Lara Solnicki, has just released a compelling and kinesthetic recording project, utilizing her considerable gifts to manifest a cinematically framed collection of original post-modern art songs. Solnicki has said, "I call these songs 'tone poems,' because they are governed and held together by a 'poetic logic.'" Produced by eminent multi-instrumentalist and film composer Jonathan Goldsmith, the CD also features performances by skilled musicians Peter Lutek (alto sax/electro-acoustic clarinet and bassoon); Hugh Marsh (electric violin); Rob Piltch (electric and acoustic guitar); Scott Peterson (acoustic and electric bass); Rich Brown (electric bass); and Davide DiRenzo on drums.
Well recorded by Jeff Wolpert, the first offing is Bit Her Sweet Christopher Street, where Solnicki's poetic lyrics and her gorgeous, sonorous vocal tone evoke stark images that speak to diverse emotional reactions in a physical space of contrasts. This song seems to address the dense, urban zones where many of us live our lives, and that there can still be beauty, mystery and the deep presence of nature. Goldsmith's acoustic piano work here is mesmerizing, as is Piltch's masterful contribution on both electric and acoustic guitar. The Embrace is a composition of incredible beauty and Solnicki brings to mind the incomparable Norma Winstone as she wraps her warm voice around each intriguing musical nuance and syllable.
This inspired song cycle concludes with the three-movement The One and The Other, described as an allegory and tragic story in which a man ironically drowns in the image of love. 1) Pass a Glass, is a free-form tour-de-force for both Marsh and DiRenzo. 2) Awe of the Sea effectively incorporates pizzicato strings and the entire ensemble to evoke waves, motions, seagulls and unfathomable depths. 3) Hollow the Need, leaves the listener washed up on a paradisiacal shore, having passed through a vortex of emotions, images and the sublime glory of words and music.