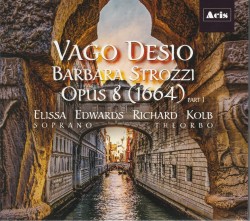 Vago Desio – Barbara Strozzi Opus 8, Part 1
Elissa Edwards; Richard Kolb
Acis APL90277 (acisproductions.com)
Venetian singer and composer Barbara Strozzi (1619-1677) is perhaps one of the most prolific composers of secular music of her time. With Vago Desio, musicologist and theorbo player Richard Kolb and soprano Elissa Edwards offer Strozzi's eighth and last known opus, performing from an edition edited by Kolb himself (Complete Works of Barbara Strozzi, Cor Donato Editions, 2019).
Vago Desio's five arias and two cantatas are set to poetry about the intricacies of love and it is highly likely that Strozzi wrote them for herself to sing. Strozzi's maturity as a composer is displayed throughout the opus with her powerful vocal writing style, which is lyrical, expressive, dramatic and always guided by text. Most notable is the show piece L'Astratto. The light-hearted parody cantata is sung by a distressed lover who sets out to choose an appropriate style of aria to express the pains of love. The ten-minute piece mixes aria-like phrases, short bursts of recitatives and sarcastic commentary which interrupts each of her short unsuitable attempts before finding an acceptable formula which leads to the complete aria.
Vago Desio shows Kolb as a sensitive and audacious theorbo player while Edwards shines in interpretations that are gorgeously nuanced with engaging and passionate vocals. Edwards is also a specialist of expressive melodic gestures, which were essential to Strozzi's style. As such, a concert version of Vago Desio would be welcome. The album also includes two sets of Correntes by Venetian composer Bernardo Gianoncelli with Kolb on the archlute.