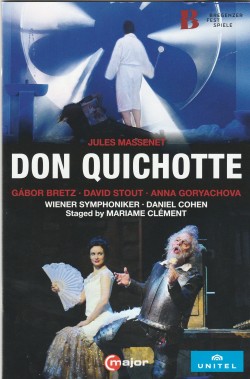 Massenet – Don Quichotte
Gábor Bretz; David Stout; Anna Goryachova; Wiener Symphoniker; Daniel Cohen
Cmajor 754008 (naxosdirect.com/search/814337015404)
If Jules Massenet was discouraged by the scorn that fellow French composers and musicians poured upon his work, he showed no sign of it in lyrical new works infused with emotion. And while it is true that all of his compositions seemed to eschew the Wagnerian sense of drama, his work – especially later pieces such as Don Quichotte – could explore and evoke strong emotions.
It is somewhat curious that this late opera often hardly merits a mention in the scores of tomes dedicated to the dramatic art. Mariame Clément's brilliant staging of it ought to alter this somewhat unfair historical narrative. This version of Don Quichotte, with Henri Cain's libretto (after Jacques Le Lorrain's Le chevalier de la longue figure) has been exquisitely recreated in this 2019 production and the Weiner Symphoniker directed by Daniel Cohen breathes new life into Massenet's last opera.
After briefly referencing the original fin-de-siècle setting, Clément resets the story in a meaningful contemporary manner. With stark yet innovative sets, dramatic lighting and of course, lyrical, beautifully paced and theatrical music, this melodious dramatic tragicomedy lives again. The masterstroke is the casting; delivered here with a dazzling performance by Anna Goryachova (Dulcinée). However, Gábor Bretz (Don Quichotte) and David Stout (Sancho) all but steal the show, especially in Ecoute mon ami and in the glorious dénouement of Act V, L'Étoile! Dulcinée! Le temps d'amour a fui which makes for an evocatively tragic end.