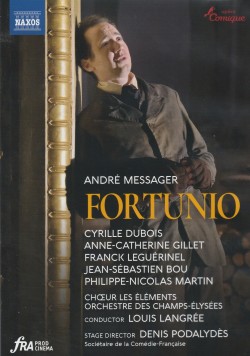 André Messager – Fortunio
Cyrille Dubois; Anne-Catherine Gillet; Franck Legeurinel; Jean-Sebastien Bou; Philippe-Nicolas Martin; Choeur Les Elements; Orchestre des Champs-Élysées; Louis Langrée
Naxos 2.110672 (naxosdirect.com/search/747313567256)
On June 5, 1907 André Messager, who had conducted the world premiere of Debussy's Pelléas et Mélisande five years earlier, led the first performance of his own operetta Fortunio at the Paris Opéra Comique, with two leading members of the original Pelléas cast singing principal roles, and Debussy himself in the audience. Fortunio was a great success, remaining in the Opéra Comique's repertoire until 1948, then inexplicably shelved until its 21st-century revival.
This 2019 Opéra Comique production delights both visually and musically. The attractive, fin-de-siècle sets and costumes are historically accurate, while Messager's lovely, sentiment-laden score receives spirited performances from the excellent cast, led by the captivating lyric tenor Cyrille Dubois, wrenching emotions as Fortunio.
Jacqueline, the sex-deprived young wife of the much-older local notary André, begins an affair with Clavaroche, a lecherous army captain newly arrived in town. Another newcomer is Fortunio, a timid fellow from the sticks whose uncle brings him to his cousin Landry, one of André's clerks, hoping Fortunio will accept a similar position. Reluctant at first, Fortunio agrees after glimpsing the beauteous Jacqueline. To allay her husband's suspicions of her infidelity, Jacqueline enlists the smitten Fortunio to pose as an innocuous, lovelorn "decoy," but she eventually succumbs to his heartfelt adoration, declaring her own true love for him.
How very French! Characteristically making light of adultery, with raunchy double entendres, erotic physical byplay, clandestine intrigues and endearing, charming music, Messager's sugary confection Fortunio succeeds admirably in every way.