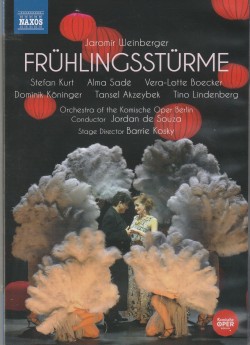 Jaromír Weinberger – Frühlingsstürme
Soloists; Orchestra of the Komische Oper Berlin; Jordan de Souza
Naxos 2.110677-78 (naxosdirect.com/search/2110677-78)
When Frühlingsstürme opened in Berlin on January 20, 1933 it seemed to be another success for its celebrated composer, Jaromír Weinberger. But ten days later the Nazis took power, crushing the creative spirit of the Weimar Republic; Frühlingsstürme was shut down. This staging from January 2020 at the Komische Oper Berlin was the first since that precarious time. It too was shut down – by COVID-19. Fortunately, it was filmed.
Frühlingsstürme is a dramatic spy story with a doomed love affair between a Russian widow and a Japanese general at its heart. The music is sophisticated and delightful. Gorgeous melodies draw on Weinberger's Czech and Jewish heritage, and complex rhythms recall popular styles of the day like jazz, foxtrot and tango.
Barrie Kosky, the provocative Australian director who leads the Komische Oper, presents Weinberger's operetta as an imaginative sequence of scenes taking place in and around an oversized, constantly transforming box. So an intimate duet like Traumversunken, liebestrunken can turn into a campy burlesque spectacle complete with a Busby Berkeley-style staircase and dancers wielding quivering ostrich feather fans.
The cast is effective enough, with soprano Vera-Lotte Boecker a charismatic presence. Tansel Akzeybek's well-placed tenor is lovely, if restrained. But soprano Alma Sadé as a sexually precocious teenager too often turns exuberance into shrieking, especially in the overlong passages of dialogue.
The terrific orchestra under Canadian conductor Jordan de Souza, who is well-known to Toronto audiences for his work with Tapestry Opera and the COC, balances the frivolous and the poignant with versatility and stylishness. Their much-needed momentum reinforces the pleasures of this valuable, if uneven, addition to the operetta repertoire.