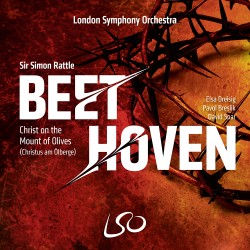 Beethoven – Christ on the Mount of Olives
Elsa Dreisig; Pavol Breslik; David Soar; London Symphony Chorus; LSO; Sir Simon Rattle
LSO Live LSO0826D (lsolive.lso.co.uk)
In the Synoptic Gospels, Matthew, Mark and Luke capture Jesus' last moments as a free man. Aware of his impending arrest and execution – having been betrayed by Judas Iscariot – Jesus uses his final night to reflect and pray at a familiar location, the Garden of Gethsemane, located on the Mount of Olives. To this day, the location remains a site of Christian pilgrimage and, in 1803, afforded rich artistic fodder to Beethoven, who used its physical beauty and importance as a site within Christian theology to pen his compelling, rarely performed, and only Passion oratorio, Christ on the Mount of Olives.
Although not theologically Christian, but rather an Enlightenment-era deist, Beethoven was most certainly drawing a parallel between this Gospel narrative of Jesus at his most fallible and his own looming existential crisis of encroaching deafness and isolation. Written while living at Vienna's Theater an der Wien and understood, at the time, within the context of other 18th-century oratorios that focus on religious themes, subjects and iconography, Christ on the Mount of Olives deserves to occupy a more central place within Beethoven's already bountiful canon. Good thing then, that it is performed and recorded so beautifully here on this 2020 LSO Live release by the London Symphony Orchestra with Sir Simon Rattle at the helm.
Fleshed out with an enormous chorus of nearly 150 under the direction of Simon Halsey and released in honour of the 250th anniversary of Beethoven's birth, this must-have recording packages together a compelling religious narrative with the majestic backing of the LSO and inspired soloists Elsa Dreisig, Pavol Breslik and David Soar performing a variety of biblical figures from Franz Xaver Huber's libretto. With the religious importance for some of the upcoming Christmas season, this recording could not have come at a better time.