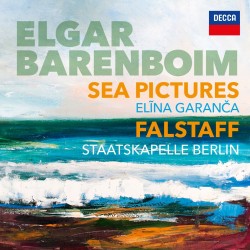 Elgar – Sea Pictures; Falstaff
Elīna Garanča; Staatskapelle Berlin; Daniel Barenboim
Decca Records 00028948509683 (deccaclassics.com/en/catalogue)
A new and sumptuous live recording from Decca features two important works by Sir Edward Elgar: the five Sea Pictures, Op 37 (1899) and the seldom-heard "symphonic study," Falstaff, Op.68 (1913).
Elgar was both proud and fond of his Falstaff. While it was well received at its premiere in 1913, it hasn't quite found its footing in the standard repertoire to date (at least outside of England). Conversely, the Sea Pictures have long captured the imaginations of singers and audiences alike. The sea itself is central to British identity and, while many other cultures could claim the same, an Englishman's love for his island's coastal waters is of a particular brand; Elgar epitomizes this relationship in his cycle. They are unique for their dark and rich soundscapes, initially scored for contralto. (Canada's own Maureen Forrester sang them – almost as trademark – throughout her career.) The five Pictures set words from different poets, including the composer's wife: In Haven (Capri).
Daniel Barenboim is no stranger to interpreting Elgar. What an experience it is, to hear him steer this record's course. Barenboim's seasoned Elgar is luminous and emotive, ever balanced and rational. One might argue that he brings just a hint of German cerebralism to such overtly English Romantic music. Mezzo-soprano Elīna Garanča contributes her own impressive artistry here, embracing this ravishing repertoire with all that she's got. Her voice soars above the Staatskapelle Berlin, buoyed and serene, "to rolling worlds of wave and shell."