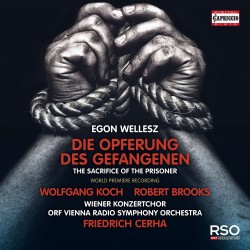 Egon Wellesz – Die Opferung des Gefangenen
Hwang; Cerha; Dewey; Koch; Vienna Concert Choir; Radio-Symphonieorchester Wien; Robert Brooks
Capriccio C5423 (naxosdirect.com/search/845221054230)
Austrian-British composer Egon Wellesz (1885-1974), of Hungarian Jewish origin, was a prolific composer. Extensively performed and decorated during his lifetime, he achieved success early, being the first of Arnold Schoenberg's students to receive a publishing contract from Universal Edition, before Berg or Webern. Generally neglected in the decades since his death, this world premiere recording, by the Vienna Concert Choir and the Radio-Symphonieorchester Wien of Wellesz's 1924-25 opera-ballet Die Opferung des Gefangenen (The Sacrifice of the Prisoner), is part of a wider revival of interest in his music.
The opera's story is based on a scenario by Eduard Stucken after the ancient Mayan play Rabinal Achi, performed annually in Rabinal, Guatemala. Subtitled "a cultural drama for dance, solo singers and choir," Wellesz's work is about an imprisoned prince who is waiting for his execution after a battle. It's not a huge stretch however to see the story reflecting many of the post WWI anxieties around the consequences of the dissolution of the Austro-Hungarian Empire.
Replete with dramatic vocal and choral scenes and massive orchestral passages with Mahlerian and Schoenbergian echoes, Die Opferung is a prime example of Wellesz's mature Viennese musical style. His signature colourful orchestration is underscored by forte brass choir and bold percussion statements. This theatrical work, parts of which would not be out of place on a later blockbuster movie soundtrack, reads surprisingly well on audio CD, even without the visual and dance elements of a stage production.