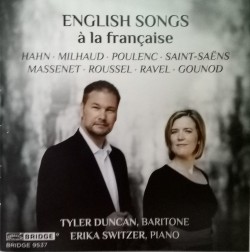 English Songs à la Française
Tyler Duncan; Erika Switzer
Bridge Records 9537 (bridgerecords.com/products/9537)
British Columbia-born/New York-based baritone, Tyler Duncan, and his wife, pianist Erika Switzer, are internationally renowned performers as a duo, and individually. The clever idea of performing French composers' settings of original English texts started when French baritone François Le Roux handed them Camille Saint-Saëns' Cherry-Tree Farm score, set to Horace Lennard's poetry. More of these Romantic/20th century songs were compiled, which, after their recital in Tours, led to this, their remarkable first duo album.
A literal who's who of French composers successfully set the original English texts. Reynaldo Hahn's Five Little Songs (1914), set to Robert Louis Stevenson's words, are short children's songs with tonal word painting like the florid piano lines behind lyrical vocals in The Swing, and colourful low vocal pitches with piano tremolo night sky effects in The Stars. Darius Milhaud's settings of five Rabindranath Tagore Child Poems (1916) are operatic, such as the fully orchestrated piano part supporting lyrical emotional singing in the closing, The Gift. Love Maurice Ravel's Chanson écossaise (1910) setting of Robert Burns' text. Ravel emulates a Scottish quasi-bagpipe folk song without ever creating a parody. Jules Massenet's setting of Alfred Lord Tennyson's Come into the Garden, Maud (1880) foreshadows future musical theatre sounds. Poulenc, Roussel and Gounod works complete the recording.
Duncan and Switzer deserve a "bilingual" standing ovation for their tight duo musicianship and colourful interpretations of these one-of-a kind art songs.