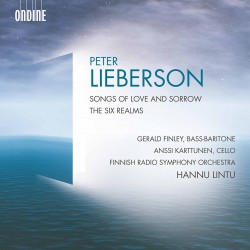 Peter Lieberson – Songs of Love and Sorrow; The Six Realms
Gerald Finley; Anssi Karttunen;Finnish Radio Symphony Orchestra; Hannu Lintu
Ondine ODE 1356-2 (naxosdirect.com/search/0761195135624)
American composer Peter Lieberson (1946–2011) had a fascinating, bicultural career. A composition student of rigorous American modernists Milton Babbitt and Charles Wuorinen, at an early age he imbibed the classical music of earlier eras, as well as mid-century jazz and musical theatre in the NYC home of his prominent record-executive father Goddard Lieberson and ballerina mother Vera Zorina.
Starting in the 1970s he embraced the teachings of Tibetan Buddhism which profoundly influenced his compositional approach. Lieberson's mature works successfully fuse those seemingly disparate influences into a cohesive idiosyncratic chromatic style threaded with an appealing lyricism and anchored by inventive orchestration.
Lieberson composed The Six Realms (2000), a dramatic concerto for amplified cello and orchestra, at the request of Yo-Yo Ma. The work's backstory outlines a key Buddhist teaching: differing states of mind shape human experience. Thus each of the concerto's six continuous sections illustrates a different realm in Buddhist cosmology and aspect of human emotion. The work receives a powerfully emotional rendering on the album by contemporary music specialist, cellist Anssi Karttunen, a close Lieberson friend.
The record's other work features an outstanding performance by Canadian bass-baritone Gerald Finley as soloist in Lieberson's orchestral song cycle Songs of Love and Sorrow (2010), among his last works. Set to five sonnets from Cien sonetos de amor by Pablo Neruda, the Songs are imbued with love for – but also a sense of quiet farewell to – the composer's late wife, Lorraine Hunt Lieberson, ending with a haunting repeated "adios."