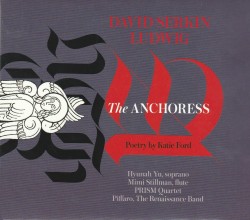 The Anchoress
Hyunah Yu; Mimi Stillman; PRISM (Saxophone) Quartet; Piffaro, The Renaissance Band
XAS Records XAS 110 (prismquartet.com/recordings)
The Anchoress is a song cycle in eight movements composed by David Serkin Ludwig with text by Katie Ford. Written for soprano, saxophone quartet, and a Renaissance band, The Anchoress explores the medieval mystic tradition of anchorism. As part of a devotional practice to Christian life, an anchoress withdrew from secular society in order to live in extreme deprivation in a bricked-up cell attached to a church (an anchorhold). From her "squint" (a tiny window) to the outside world, Ford imagines a narrative from the most inner thoughts of a medieval anchoress. From that tiny window we are privy to slices of conversations, with herself and others, where the anchoress experiences intense and extreme emotions that range from contemplation and doubt to terror and religious ecstasy.
Ludwig's striking choice of orchestration in the mixing of ancient and modern instruments moves the listener efficiently through the various narratives by creating sonorities that are both unusual and unique. The solo recorder is particularly efficient as it converses and interrupts the voice, mirroring the meandering mind of the anchoress.
The Anchoress is an expansive monologue in which soprano Hyunah Yu makes use of several vocal techniques such as vocalises and Sprechstimme. She is expertly supported by Piffaro, the acclaimed Renaissance wind band and the PRISM Quartet. The Anchoress received its world premiere in October 2018 by the Philadelphia Chamber Music Society. The disc also features three instrumental settings, Three Anchoress Songs, featuring flutist Mimi Stillman and tenor saxophonist Matthew Levy.