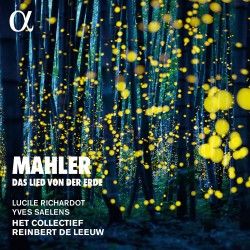 Mahler – Das Lied von der Erde
Lucile Richardot; Yves Saelens; Het Collectief; Reinbert de Leeuw
Alpha ALPHA633 (naxosdirect.com/items/das-lied-von-der-erde-543432)
The project to create a chamber version of Mahler's 1908 orchestral song cycle Das Lied von der Erde was an initiative of Arnold Schoenberg, who intended to perform this reduction for 13 players for his Society for Private Musical Performances, an exclusive concert series devoted to new music which ran for three years from 1919 to 1921. Schoenberg indicated roughly how this might be achieved by annotating the full score, leaving the details to be worked out by an acolyte (likely Anton Webern). Ultimately, however, the project was abandoned as the Society went bankrupt due to the hyper-inflation that ravaged post-war Austria. In 1980 Universal Edition commissioned Rainer Riehn to make a performing edition of the score, which has proved compelling enough to have received over a dozen recordings to date.
In 2019, the Belgian Het Collectief ensemble invited the esteemed Dutch maestro Reinbert de Leeuw, well known for his passionate advocacy for the music of Messiaen, Ligeti, Kagel, Kurtág, Vivier, Gubaidulina and Ustvolskaya, to create and perform his own interpretation of this autumnal masterpiece at the Saintes Festival in France in July of that year; sadly, this would prove to be his last public performance. Subsequently, an ailing de Leeuw implored Thomas Dieltjens, the artistic director of the ensemble, to record his arrangement as soon as possible. In February 2020, following the completion of the recording sessions in Amsterdam, de Leeuw died at the age of 81.
De Leeuw's version of the work for the most part follows the broad outlines of the Riehn version but amplifies it with the addition of a second clarinet, assigns the bassoon to double on the contrabassoon (its cavernous low C is an indispensable element in the finale) and, most tellingly, adds a harp part to the ensemble while curtailing the incongruous piano part to the bare essentials. Add to this the outstanding sonic alchemy of the recording team and de Leeuw's finely balanced direction and the result is a performance that for the first time didn't leave me feeling short-changed by the reduced ensemble. The stunning interpretation by the French mezzo-soprano Lucile Richardot is notable for its intimacy and finely nuanced word painting while the Belgian tenor Yves Saelens lends an appropriate swagger to his alternating extroverted numbers. In the closing movement of the finale, Der Abschied (The Farewell) de Leeuw provides a touching detail: while the voice gradually recedes into darkness on the word "ewig" (forever) the ensemble maintains an inexorable clockwork indifference, ignoring the indicated diminuendo. The earth alone survives, "the horizon is ever blue." Farewell, Reinbert! You will be greatly missed.