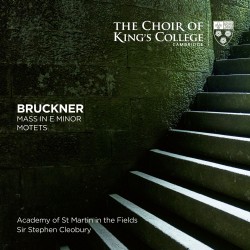 Bruckner – Mass in E Minor; Motets
Choir of King's College, Cambridge; Academy of St Martin in the Fields; Sir Stephen Cleobury
King's College Cambridge KGS0035 (kingscollegerecordings.com)
Described as "half simpleton, half god" by Gustav Mahler, Anton Bruckner remains a divisive figure in musical history. As a composer of immense symphonic structures at a time of fissure between followers of Brahms and Wagner, Bruckner was subject to severe criticism from both friend and foe, and these symphonies continue to divide listeners into pro- and anti-Bruckner factions, though less antagonistically than in the late 19th century.
In addition to his love of art, Bruckner was a devout Catholic, and it is in his smaller-scale religious works that we find a level of universally praised beauty and genius unlike any other of his contemporaries, a point reinforced by this recording of the Mass in E Minor and motets by the Choir of King's College, Cambridge. Recorded shortly before the death of conductor Stephen Cleobury, this striking survey of Bruckner's religiosity and skill is also a testament to the devotion and dedication of the man who led the King's College choir for so many years.
While Bruckner's music is often grouped with the massed-choir works of Brahms, Mahler and Schoenberg, this disc demonstrates that Bruckner, particularly in his smaller-scale material, can be ably taken on by chamber-sized groups, including choirs of men and boys. The timbral compromises suggested by this vocal disposition are, in fact, not compromises at all, for the purity of sound that is produced is essential to the transparent and acoustic-driven nature of these pieces. In a building with such reverberance as the St. Florian monastery, where Bruckner composed and worked for many years, or King's College Chapel, it is the attack, decay and intonation that are of paramount importance, rather than the characteristically late-Romantic power and vibrato, a point reinforced by this stellar recording.
The music of Bruckner no longer needs apologists – it is breathtaking in its entirety and deserving of its place in music history. This recording once again demonstrates why this is so, revelling in the genius of that man who was once described as "half simpleton, half god." This is music to soothe the soul in troubled times such as our own.