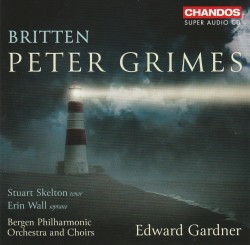 Britten – Peter Grimes
Stuart Skelton; Erin Wall; Bergen Philharmonic Orchestra and Choirs; Edward Gardner
Chandos CHSA 5250(2) (naxosdirect.com/search/095115525029)
What an extraordinary thing Benjamin Britten's Peter Grimes is. After 75 years in existence, this work has become a centrepiece of the English operatic canon. Did Britten ever imagine it would become so celebrated when he first conceived of it? In an infamous flash of prophetic purpose, upon reading George Crabbe's The Borough in a book shop in California ca. 1942, Britten "realized two things: that [he] must write an opera, and where [he] belonged."
The newest recording of this seminal opus features star singers such as tenor Stuart Skelton, (in the lead role) and soprano Erin Wall (as Ellen Orford). Edward Gardner helms the Bergen Philharmonic Choir and Orchestra, amongst other choruses. From the outset of this record, we perceive laser-precise execution, resulting in a thoroughly energetic and inspired interpretation of this opera. Every last note of the score has been carefully considered by every musician involved.
Three-quarters of a century on, performance practice now exist for Grimes. Gardner is aware of such traditions and works admirably within them, reimagining aspects of the opera while adhering to the performative lineage. Orchestral solos rival those of the singers themselves, with brilliant colours and edgy textures erupting from both choral and orchestral ensembles. Gardner still manages to surprise and provoke us, prompted by the nature of the libretto itself.
Skelton is the consummate Grimes, a role that has shaped his career in many ways. Canadian soprano Erin Wall is characteristically stunning in her performance of Ellen Orford, poignant and wistful. The music world has been deeply saddened by Wall's recent death from cancer this October; she was but 44 years old. A shining light and a rare national treasure, Wall has departed from us far too soon, long before any of her last songs should have been sung.