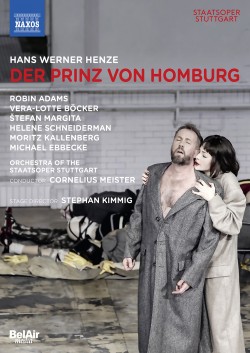 Hans Werner Henze – Das Prinz von Homburg
Adams; Boecker; Margita; Schneiderman; Kallenberg; Ebbecke; Orchestra of the Staatsoper Stuttgart; Cornelius Meister
Naxos 2.110668 (naxosdirect.com/search/747313566853)
Towards the end of Hans Werner Henze's great opera, Der Prinz von Homburg, soldiers from the Prince of Homburg's regiment sing "Remember: feeling alone can save us." They are pleading for mercy for their leader, a highly distractible, irrepressibly romantic dreamer, governed more by feeling than by rules. He is about to be executed for disregarding his orders – even though by not following them he led his troops to a crucial victory.
This production from Stuttgart Opera in 2019, set in a run-down gymnasium, is no treat for the eyes. But director Stephan Kimmig charges it with urgency, theatricality and a deep commitment to the humanitarian concerns of Henze and the brilliant Austrian writer Ingeborg Bachmann, whose libretto is based on a much-loved play from 1811 by Heinrich von Kleist.
Kimmig is especially persuasive in highlighting the contrast between the Prince's poetic world of imagination and the military's regimented world of discipline in a way that forcefully resonates today, over 60 years after Henze wrote it – that is until the heavy-handed, awkward finale, where the cast pulls out scarves and T-shirts messaging sensitivity, empathy and freedom.
Musically, the pleasures are innumerable. The singers are without exception convincing, especially Robin Adams as an endearing Prince. The orchestra of the Staatsoper Stuttgart under the direction of Cornelius Meister is incisive in the gorgeous orchestral interludes, and responsive in arias like Homburg's moving ode to immortality, Nun, o Unsterblichkeit.