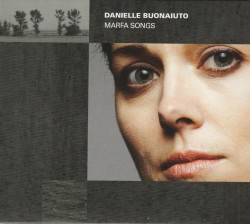 Marfa Songs
Danielle Buonaiuto
Starkland ST-234 (starkland.com)
For her debut album, Marfa Songs, Danielle Buonaiuto enlisted four emerging composers to write song cycles for her. Marfa Songs features 19 premiere recordings by Douglas Buchanan, Natalie Draper, James Young and Canadian composer, Cecilia Livingston. Each composer provides a unique vocal terrain for Buonaiuto to explore: Buchanan's Scots and Waters is influenced by Scottish music; Draper's O sea-starved, hungry sea is ritualistic and portrays the sea's powers; Young's miniature Marfa Songs pay homage to the Texas high plains; and Livingston's Penelope and Kalypso voyage through Homer's Odyssey.
Marfa Songs is marked by stylistic differences that make it challenging to find musical cohesiveness and is best considered as a soundscape journey. Together with pianist John Wilson, Buonaiuto creates atmospheres that include a minimalistic panorama of a desert city, water odysseys, themes of mortality and eternity as well as Scottish folk songs and a Scots rendition of Psalm 23. Buonaiuto's vocal agility is most notable in the Young song cycle, which is brazen and fun, although the purposeful minimalistic instrumentation and jumpy nature of the songs do not always serve her voice. Buonaiuto's diction is flawless, especially in the highest registers and her emotional capacity as well as her full and warm voice is especially displayed in the Buchanan cycle.
Marfa Songs comes with a booklet that includes composer notes, lyrics and an introduction by American soprano Phyllis Bryn-Julson, one of the great interpreters of 20th century vocal music.