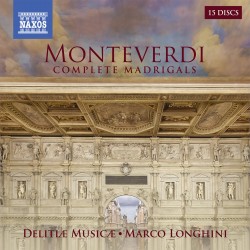 Monteverdi – Complete Madrigals
Delitiae Musicae; Marco Longhini
Naxos 8.501505 (naxosdirect.com/search/730099150545)
Claudio Monteverdi is such an important figure in the history of Western music that it is easy to overlook the majority of his prolific oeuvre in favour of those few works that are frequently heard and even more frequently mentioned in musical history texts as the thin line that separates the Renaissance from the Baroque. Of course, such neat-and-tidy divisions are largely artificial and can only be made with significant hindsight and generalization; amid this oversimplification of the musical-historical spectrum, we sometimes need to be reminded to look beyond the Vespers and Orfeo, and turn our gaze to such smaller-scale material as the religious motets and secular madrigals.
Whether expertly familiar with Monteverdi's madrigals or a total neophyte, one cannot find a better starting point than Delitiæ Musicæ's latest release – a 15-disc survey of the complete madrigals – which summarizes and concentrates the composer's essential characteristics into countless pieces ranging anywhere between two and five minutes in duration, and provides a musical biography tracing the career of this great Italian composer. This immense five-year project (all 15 discs were recorded between 2001 and 2006) was undertaken by conductor Marco Longhini and the Delitiæ Musicæ ensemble, established by Longhini to perform unpublished masterpieces of early Italian music.
This focus on musicology-based performance serves the listener well, as the chronological order of presented material, combined with thorough and enlightening program notes, allows one to track and contextualize the subtle (and sometimes not-so-subtle) changes that take place over time. For example, the unaccompanied Renaissance-style polyphony on the first disc undergoes dramatic transformations by the seventh, to the extent that Monteverdi himself developed a new term to define the form: "Concerto." By the ninth disc, we hear viol consorts and instrumental ritornelli that begin pointing forward to the developments of Baroque composers and, by the 15th disc, we have arrived at the starting point for the next generation of musical minds, with arioso passages, early recitative, and a basic cantata structure.
These connections between contextual understanding and listening are enormously important, especially when immersing oneself in as vast a body of work as we find here. But these are audio discs and the most important component in deeming this collection successful is how it sounds and, in short, it sounds very good. One of Delitiæ Musicæ's great stylistic attributes is their ability to convey affects and expressions without being overly musically dramatic; the great swells and sweeps that are utilized in some Renaissance recordings are avoided here, taking the notes on the page as they come and avoiding the imposition of interpretation over composition. This approach makes even greater sense when we reach the "invention" of the concerto, as instrumental forces are added and augmented, and rhythmic complexity increases exponentially.
Although some may be apprehensive at the prospect of tackling over 15 hours of Monteverdi, this is a collection that is meant to be savoured over time, rather than devoured in a binge-listening marathon. With plenty of textual information and excellent musical performances, these discs will fascinate all who listen, whether already steeped in this master's music or simply interested in learning more about one of Italy's great cultural figures.