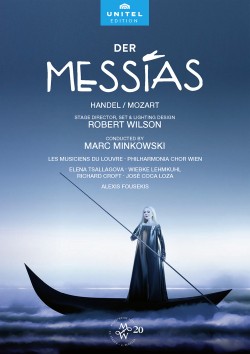 Handel/Mozart – Der Messias
Soloists; Philharmonia Chor Wien; Les Musiciens du Louvre; Marc Minkowski
Unitel Edition 803408 (naxosdirect.com/search/814337017583)

In 1789, Mozart's loyal patron, Gottfried van Swieten, asked the composer to write a German arrangement of Handel's Messiah. Van Swieten had in his possession the original Messiah score as well as the Ebeling/Klopstock German translation used by CPE Bach for a 1775 performance. With these primary sources, Mozart arranged Der Messias by first augmenting the woodwinds and brass sections with two flutes, two clarinets, one bassoon, two horns and three trombones. Mozart then skillfully wrote contrapuntal conversations between soloists and instruments, seamlessly introduced and featured the clarinet, a new instrument, and filled in passages with harmonies that are unmistakably classical. The resulting sonorities inject Der Messias with vibrant colours and enriched textures that are undeniably Mozartean in style.
Important revisions include considerable cuts to the libretto (Thou art gone up high and Let all the angels of God are excluded), new music (noticeably for If God be for us which he writes as a recitative), and, most startling, the changes in vocal parts: Mozart not only reduced the alto and tenor solos, he often reassigns them to the soprano (He shall feed his flock, All they that see him, Thy rebuke hath broken His heart); the quartet of soloists, and not the chorus, sings the entrance of For unto us a Child is born; and, most shocking, the alto aria But who may abide is given to the bass and the famous soprano aria Rejoice is sung by the tenor.
American director Robert Wilson's staging of Der Messias includes surrealistic imageries that are difficult to decipher (exploding iceberg video, seated headless man with lobster on a leash, dancing haystack) and caricatured characters that contribute to desacralizing the work. Mozart's version includes compositional techniques that make this work "operatorio-like," from deliberate libretto cuts and enriched textures to register changes in solos, and, most telling, a delayed chorus entrance to the first "Wonderful" in For unto us. Wilson's minimalistic and incoherent staging not only shows a lack of understanding of both the stories told in Messiah and Der Messias but denies Mozart his grand vision for Handel's Messiah.
Performance practice purists will most certainly bristle at Der Messias – it is eerie to hear Handel sound like Mozart. However, the original discomfort soon transforms into pure enjoyment as Mozart weaves together a different, but convincing and powerful Der Messias that is worth listening to many times over, albeit with your eyes closed.
Recorded in Salzburg for the 2020 Mozartwoche, Der Messias is directed by Marc Minkowski with an original sound orchestra from Les Musiciens du Louvre and the Philharmonia Choir Vienna.