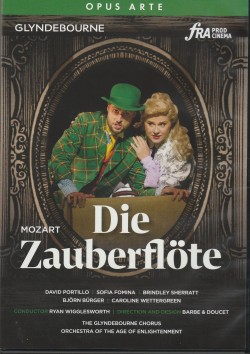 Mozart – Die Zauberflöte
Portillo; Fomina; Sherratt; Burger; Wettergreen; Glyndebourne Chorus; Orchestra of the Age of Enlightenment; Ryan Wigglesworth
Opus Arte OA1304D (naxosdirect.com/search/809478013044)
Reviewing a new production of any opera in 250 words is a challenge, but even more so when the material is as genre-defining as Mozart's The Magic Flute, here recorded at Glyndebourne in 2019. This presentation is fascinating, with Roald Dahl-esque sets and costumes accompanied by the magnificent Orchestra of the Age of Enlightenment.
From the outset, the music is stunning in its energy and crispness, rhythmically vital yet expressive and constantly transparent. The orchestra is in fine form, accompanying with a sensitivity and articulateness which allows the listener to perceive the multiple layers of sound taking place: the soloist or ensemble in the foreground; the woodwinds and upper strings in the middle ground; and the lower strings below, underpinning the higher parts with immovable precision.
One of the more beautiful components of this performance is the way in which the orchestra's use of period instruments determines the dynamic levels of all involved. To use a well-known example, Der Hölle Rache – the famous Queen of the Night aria – can be so driven by the aggressive rage contained in the text that the interpretation becomes a caricature of its inherently lyrical nature, pitting pyrotechnical technique against musical sensibility. Not so in this instance, though; the control exercised in tandem by soprano Caroline Wettergreen and the OAE ensures that there is beauty amidst the chaos, producing an unusually moving result.
While the music is treated with historically informed sensitivity, the sets and staging for this production are decidedly and wonderfully nontraditional, a surreal and eccentric exploration of Alice in Wonderland-style visual effects. With each background made to look hand-sketched, colourful costumes and perspective-bending design, the visual impression made by this presentation is as impactful, if not more so, than the musical. Those acquainted with Mozart's operatic masterwork will surely appreciate such a novel and engaging reimagining of this familiar favourite.