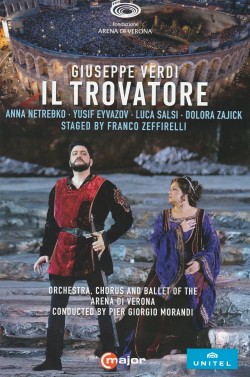 Verdi – Il Trovatore
Netrebko; Eyvazov; Salsi; Zajick; Orchestra, Chorus and Ballet of the Arena di Verona; Pier Giorgio Morandi
Cmajor 754608 (naxosdirect.com/search/814337015466)
Il Trovatore is an immensely popular opera in which an implausible plot is transformed by a dizzying succession of glorious melodies. Along with Rigoletto and La Traviata, it forms the great trilogy of Verdi's middle period, but it is the most traditional of the three. A melodrama about chivalry, honour, valour and tragic love powered by unremittingly high-voltage music. Leonora, Manrico and the count are all given passionate arias, but Verdi appeared most drawn to Azucena, the Gypsy outsider whose burning desire for revenge is finally rewarded in the opera's final denouement.
This is an unrelievedly intense performance, staged by the master of epic visual drama, Franco Zeffirelli, and has a stellar cast backed by choral and orchestral playing – helmed by Pier Giorgio Morandi – that is electrifying. Anna Netrebko, always at her magnificent best, gives an extraordinary performance as Leonora, while Dolora Zajick more than lives up to the intensity and challenge of Azucena's character. Zajick's arias – Madre non dormi? followed by Si la stanchezza m'opprime o figlio – are sublime.
The most moving passages are created through dialogue, notably the Act 4 Miserere duet between Manrico and Leonora, in which she sings to the imprisoned troubadour above a chorus of praying monks, and the final exchanges between the lovers beginning with Yusif Eyvanzov's fearsome tenor outburst Parlar non vuoi. Moments such as these raise Il Trovatore way above the level of period costume drama. This is absolutely a performance to die for.