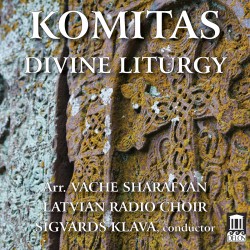 Komitas – Divine Liturgy
Latvian Radio Choir; Sigvards Klava
Delos DE 3590 (naxosdirect.com/search/013491359021)
The profound music of Divine Liturgy is a historic recording, performed to commemorate the 150th birthday of its composer, Komitas Vardapet (1869-1935). Komitas is considered the founder of the Armenian national school of music and an important pioneer in the field of ethnomusicology. He completed this monumental work in April 1915 as the Armenian Genocide perpetrated by the Ottoman government intensified. Komitas himself was arrested shortly thereafter. Although his life was spared, he was driven out of Armenia, soul destroyed, and spent the last 20 years of his life in an asylum in Paris.
Divine Liturgy reflects Komitas' deeply spiritual life but the backdrop evokes the socio-political events of the times. Thus, praise and worship are set in sombre tones and colours reflecting spiritual darkness. To capture this, Komitas "heard" male voices expressing praise for God as well as reflecting the mood of the times. However, arranger Vache Sharafyan has made a boldly presumptuous leap of faith and illuminates Komitas' deeply meditative sound-mass textures, choosing to mix the shadowy darkness of male voices with the dappled light of soaring female ones.
Thus we have a brilliantly daring new Divine Liturgy expressed as much in the eerie tones of Hovhannes Nersesyan's dark and sonorous bass voice on Chosen of God and the eloquent outpourings of the tenor Armen Badalyan set amid pliant sopranos and contraltos. The mixed Latvian Radio Choir is superbly directed by Sigvards Klava, whose efforts – together with the bold ones of Sharafyan – give wings to the structural logic and deep spirituality of a work that many see as Komitas' crowning achievement.