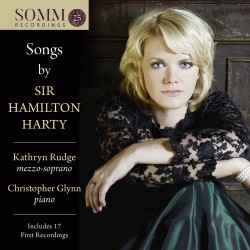 Songs by Sir Hamilton Harty
Kathryn Rudge; Christopher Glynn
Somm Recordings SOMMCD 0616 (naxosdirect.com/search/748871061620)
I'm a longtime admirer of Hamilton Harty's distinctively Irish-sounding orchestral works, especially his unfairly neglected Piano Concerto, so I welcomed the opportunity to hear and review this CD containing 23 songs, nearly half his total output, 16 recorded for the first time.
Set to words by 17 poets, including W.B. Yeats, Padraic Colum, Walt Whitman and Harty himself, the songs range across Ireland's natural landscapes, love, lullabies, work, worship, war and death. Many are infused with the traditional melodic turns, lilt and sentiment we immediately identify as so uniquely and ingratiatingly Irish.
English mezzo-soprano Kathryn Rudge's shiny, firmly focused voice surges thrillingly in the more dramatic songs, while she's sensitively subdued in the tender or reflective selections, varying her vocal colours, always acting the texts.
The piano accompaniments are elaborate and fully fleshed, not surprising because Harty, in addition to his distinguished career as a conductor, performed as piano accompanist (he preferred the term "collaborator") for violinist Fritz Kreisler, tenor John McCormack, soprano Agnes Nicholls (his wife) and mezzo Elsie Swinton (his purported mistress), the latter two for whom he composed many of his songs. Pianist Christopher Glynn "collaborates" admirably, adding, on his own, two charming salon-like solo piano pieces by Harty, one in its first recording.
Harty's lustrous, warm-hearted songs surely deserve to be included in the repertoires of today's vocal recitalists and the CD collections of lovers of beautiful music, like you! Detailed notes and texts are provided.