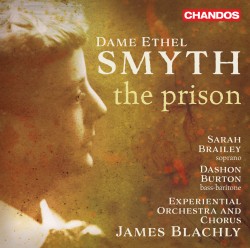 Dame Ethel Smyth – The Prison
Dashon Burton; Sarah Brailey; Experiential Chorus; Experiential Orchestra; James Blachly
Chandos CHSA 5279 (naxosdirect.com/search/095115527924)
Dame Ethel Smyth (1858-1944) was an English composer with a large and varied compositional output that includes several operas, sonatas, works for strings, choral works and a mass. The Prison is a vocal symphony for soprano, bass-baritone, chorus and orchestra that was premiered and conducted by Smyth in 1931. Based on the libretto The Prison: A Dialogue by philosopher Henry Bennet Brewster, Smyth's lifelong friend and mentor, the symphony tells the story of a prisoner in solitary confinement who dialogues poignantly with his soul about his innocence and imminent death. Dashon Burton (The Prisoner), Sarah Brailey (His Soul) and the Experiential Orchestra and Chorus offer a raw performance that is both stirring and compelling.
Overall, Smyth's writing is rich and complex and very much reminiscent of an important influence in her life, the Brahms symphonies. In the first part, the prisoner's feelings of dread are powerfully captured in the brass section with dark-timbred percussive bursts. This is in contrast to the second part, where the prisoner seems to find liberation in the acceptance of his faith in the more ethereal sonorities of his soul. Smyth composed The Prison while grieving the loss of Brewster and progressively becoming deaf, thus prematurely ending her career as a composer. There are several parallels made between this work and her personal life.
(Re)discovering forgotten composers can be frustrating when primary resources are scarce or when the composer's output turns out to be less than exciting. In Smyth, we find not only a compelling individual, but a woman who left behind thousands of letters ready to be studied. Hers is a legacy still waiting to be revealed.