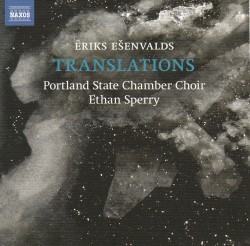 Ēriks Ešenvalds – Translations
Portland State Chamber Choir; Ethan Sperry
Naxos 8.574124 (naxosdirect.com/search/747313412471)
Award-winning Latvian composer Ēriks Ešenvalds is a superb younger generation choral composer who writes with feeling, lyricism, layered complexity and the skill to also create sad sounds that are soothing and comforting at the same time. It is thrilling to hear him expand the very strong and thriving choral tradition of the three Baltic nations.
This is the second recording of his music by the Portland State Chamber Choir, under the direction of Ethan Sperry. Sperry and his university ensemble perform with intellect, texture and passion. The seven works here are not easy to interpret due to language, diverse texts, wide-ranging tonality and multiple-part writing.
Highlights include The Heavens' Flock (2014) with its almost folk-song singalong quality, full tonal harmonies, occasional high soprano pitches and calming repeated ending. Translation (2016) has a darker, reflective mood. Slow but never boring, the harmonies keep the listener's attention until the closing singing handbells' final ring. Vineta (2009) opens with a choral pedal on E, as the volume builds with attention-grabbling contemporary tonalities and the use of mesmerizing ringing vibes and glockenspiel, and solo bass drum for unexpected rewarding effects. For In paradisum (2012), Ešenvalds adds viola and cello. A devastating solo cello line with full choral backdrop adds to the grief sentiment. An unforgettable minimalistic atonal string duet closes the work above a spectacular low, pianissimo choral drone.
The moving compositions, clear production and youthful singing make Translations a memorable choral release.