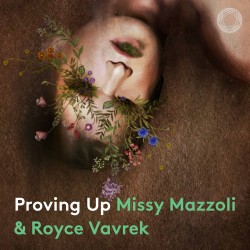 Missy Mazzoli; Royce Vavrek – Proving Up
Opera Omaha; International Contemporary Ensemble; Christopher Rountree
PentaTone PTC 5186 754 (naxosdirect.com/search/827949075469)

Right from the opening of this grim, gripping opera, reality mingles with fantasy. In a hearty invocation to the great American Dream, Pa Zegner (the alluring baritone John Moore) sings, "Uncle Sam is rich enough to give us all a farm." Meanwhile, eerie sounds creep in from the orchestra. It's clear Pa is deluded.
It's the 1860s. Pa and his family have been lured to the Nebraska prairies by the promise of free land offered by the recent Homestead Act. But two young daughters have already died. The land is dry and barren. The weather is nasty. And Uncle Sam's requirements – including a glass window – are proving mighty difficult to fulfill.
American composer Missy Mazzoli and Canadian librettist Royce Vavrek have transformed a disturbing But Mazzoli's writing is fresh, original and enticingly contemporary. With sixthe full libretto.