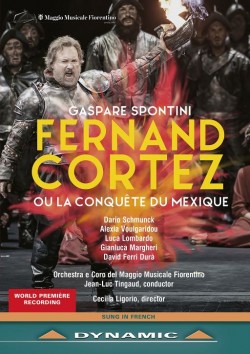 Gaspare Spontini – Fernand Cortez
Schmunck; Voulgaridou; Lombardo; Margheri; Ferri Durà; Orchestra e Coro del Maggio Musicale Fiorentino; Jean-Luc Tingaud
Dynamic DYN-37868 (naxosdirect.com)
In 1803, the 28-year-old Gasparo Spontini, having already composed 15 operas (!) in his native Italy, moved to Paris. There, as "Gaspare," he became a favourite of Napoleon and Josephine, who commissioned Fernand Cortez (1809) as wartime propaganda. The contra-historical libretto by Étienne De Jouy and Joseph-Alphonse d'Esménard depicted Cortez as a Napoleon-like heroic conqueror, benevolently "liberating" the "oppressed" Mexican people while rescuing his lover, the Mexican princess Amazily, and his brother Alvar as they were about to be sacrificed by the Mexican High Priest.
Fernand Cortez was a sensational hit, soon performed throughout Europe. In 1817, Spontini revised it, shifting scenes and adding the role of Montezuma. Today, however, the once-celebrated composer and his 24 operas are all but forgotten. This 2019 Florence production of the original version was its first staging in nearly two centuries.
Heading the excellent cast are steely toned tenor Dario Schmunck (Cortez), the thrilling chocolate-voiced soprano Alexia Voulgaridou (Amazily), tenors David Ferri Durà (Alvar) and Luca Lombardo (Amazily's warrior-chieftain brother Telasco), baritone Gianluca Margheri (Cortez's comrade-in-arms Moralez) and bass-baritone André Courville (High Priest).
Conductor Jean-Luc Tingaud propels the energized score throughout the opera's three hours, including two extended ballet sequences. In its dramatic vocal lines, bold orchestration, epic scenario, considerable length and vivid imagery (the Spaniards' historically appropriate silver-grey armour contrasting with the Mexicans' colourful costumes), Fernand Cortez anticipated the operas of Berlioz (who admired it) and Meyerbeer. It's an important – and entertaining! – operatic landmark.