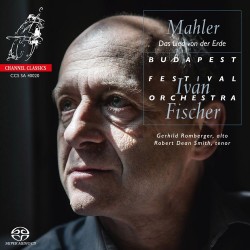 Mahler – Das Lied von der Erde
Gerhild Romberger; Robert Dean Smith; Budapest Festival Orchestra; Iván Fischer
Channel Classics CCS SA 40020 (prestomusic.com)
"Is it really bearable? Will it not drive people to self-destruction?" Gustav Mahler (1860-1911) asked of Bruno Walter in 1909 concerning his latest work, Das Lied von der Erde. In truth, few works of art are so life affirming as this supposed "final farewell," especially so when it receives such a compelling interpretation as we have here from the incomparable Budapest Festival Orchestra in this stunningly well-produced studio recording. Scored for large orchestra and two vocal soloists, it is in all but name Mahler's Ninth, and, as he presaged at the time due to his ill health, possibly final symphony. The vocal soloists include the American Heldentenor Robert Dean Smith, who shows some evident strain in the heavily scored Das Trinklied vom Jammer der Erde that opens the work (not an unusual occurrence in this taxing movement). Elsewhere he is much more at ease, lending a winsome charm to the delicate Von der Jugend and convincingly swaggering his way through Der Trunkene im Frühling. The German contralto Gerhild Romberger, best known for her lieder and oratorio performances, sings with a subtle intensity and purity of tone well suited to her more intimate selections, including the autumnal Der Einsame im Herbst, a rollickingly lively Von der Schönheit and the prolonged and deeply moving finale, Der Abschied. This album brings Iván Fischer's estimable survey of the Mahler symphonies to a close, with the notable and deliberate omission of the Eighth and incomplete Tenth symphonies.