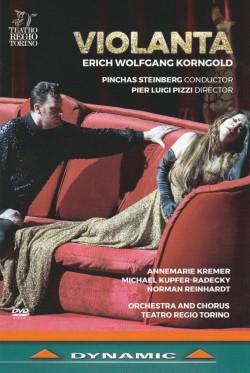 Korngold – Violanta
Annemarie Kremer; Michael Kupfer-Radecky; Norman Reinhardt; Orchestra and Chorus Teatro Regio Torino; Pinchas Steinberg
Dynamic 37876 (naxosdirect.com)
Vienna, 1914: the exotic, erotic and ecstatic sonorities of Salome and Der Rosenkavalier are in the air and the Strauss-admiring 17-year-old Korngold inhales and transforms them into his own personal style, composing both the comedy Der Ring des Polykrates and the tragedy Violanta. In 1916, Bruno Walter conducts the operatic double-bill's world premiere in Munich; that same year, performances follow in Vienna and 11 German cities.
Violanta opens with spooky, harmonically indeterminate ninth-chords spanning over four octaves; the suspenseful, feverish atmosphere will continue throughout the one-act opera's 82 minutes. Soprano Annemarie Kremer is convincingly ferocious as Violanta, persuading her husband Simone (baritone Michael Kupfer-Radecky) to murder Alfonso (tenor Norman Reinhardt), the seducer she blames for her sister's suicide. But when Alfonso arrives, Violanta admits to herself, and to him, that she has always loved and desired him. They join in a rapturous duet before Violanta, shielding Alfonso from Simone, is pierced by Simone's sword and dies.
Hans Müller's libretto was set during Carnival in 15th-century Venice. Surprisingly, Violanta wasn't staged in Italy until this January 2020 Turin production, needlessly updated to the 1920s by Pier Luigi Pizzi, typical of today's breed of opera directors who simply can't leave well enough alone. Pizzi's set and costumes, though, are suitably lurid – black, white and blood red.
Bravo to conductor Pinchas Steinberg, who draws from the 11 vocal soloists, chorus and orchestra a truly impassioned performance of Korngold's impassioned, hyper-Romantic, very, very beautiful music.