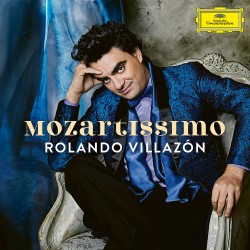 Mozartissimo
Rolando Villazón
Deutsche Grammophon 4837917 (rolandovillazon.com/now-available-mozartissimo-from-deutsche-grammophon)
Mexican lyric tenor Rolando Villazón has justly become world famous while conquering most of the bel canto and even the heavier roles (e.g. Don Carlo, Werther etc.) and has become the darling of the opera-loving public by teaming up with Anna Netrebko creating a "dream couple" with their youthful and attractive looks, natural compatibility and lovely stage presence. His youthful exuberance, intensity and taking of chances unfortunately led him into trouble and surgery, but he successfully recovered. Now he has turned to Mozart whom he reveres and calls his "most beloved composer and dearest friend."
My first encounter with him in Mozart was a recent recording by DG of Don Giovanni, which I reviewed in these pages (April 2016), singing Don Ottavio and bringing an erotic Latin sensuality to the part. Since then DG has recorded all seven Mozart operas with him taking the tenor role in most. This new issue contains almost all of Mozart's work for the tenor. A tremendous undertaking.
Villazón begins with the two famous arias from Don Giovanni including my favourite Il mio tesoro intanto, immediately showing his virtuosity with a voice that triggers varied emotions often within the same aria. What follows are excerpts from Cosi fan tutte, Abduction from the seraglio, Le nozze di Figaro, La clemenza di Tito and Die Zauberflöte where he takes the role of Papageno, again showing his versatility with this buffo role. All the foregoing are accompanied by the Mahler Chamber Orchestra and the Chamber Orchestra of Europe conducted with exquisite Mozartian style by Yannick Nézet-Séguin.
A most rewarding disc that should be enjoyed piecemeal, one or two items at a time, to come to you fresh with each listening.