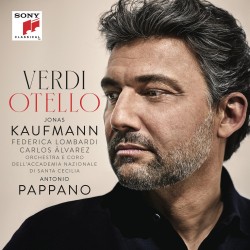 Verdi – Otello
Jonas Kaufmann; Orchestra e Coro dell'Accademia Nazionale di Santa Cecilia; Antonio Pappano
Sony Classical 19439707932 (jonaskaufmann.com/en/192/all-cds.html)
My fondest memory of Otello was, as I recall, around 1960, walking in from the street to the Royal Alexandra Theatre to hear Jon Vickers sing the title role! Seven dollars for the ticket. Those were the good old days...
Now in the 21st century it is world-famous German heldentenor Jonas Kaufmann who steps into a long line of great Otellos: Vickers, Ramòn Vinay, Mario del Monaco, Plácido Domingo, José Cura et al. But it took a long period of hesitation and gestation before he decided to attempt this Mount Everest of tenor roles. Much like it took Verdi, who hadn't composed anything for the stage for 15 years, a great deal of agonizing before he was persuaded by a brilliant librettist, Arrigo Boito, and the Shakespearean subject matter, to write again at age 74. The result was an astounding masterwork, unlike anything he had written before.
Kaufmann's first attempt to sing the role was in 2017 at Covent Garden under Antonio Pappano's masterly handling of the score and it was a breakthrough success. Sony Classical decided to make a recording in Rome with the same principals and the famed Santa Cecilia Orchestra and Chorus. This is actually the second "Roman" Otello, the first being from 1960 with Vickers, Rysanek and Tito Gobbi, Tullio Serafin conducting.
Kaufmann superbly delivers a role that exhausts all emotions, the power, the passion, the grief, but also lyrical tenderness in Gioia nella notte dense, one of the most beautiful love duets ever written. His triumphant entry, the exuberant Esultate, is shattering. Italian soprano Federica Lombardi is an ideal Desdemona who "successfully brings off a marvellous musical depiction of wounded innocence" with her beautiful, many-shaded voice. Of course there is Iago, Carlos Álvarez, a veteran of the role who is suitably conniving and malevolent, but Kaufmann and Pappano's collaboration is symbiotic and the magnum force that binds it all together. "An Otello for the ages." (The New York Times)