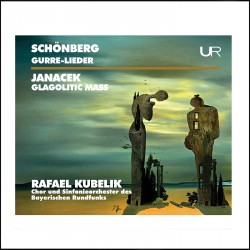 Schoenberg – Gurre-Lieder; Janáček – Glagolitic Mass
Soloists; Chor des Bayerischen Rundfunks; Symphonieorchester des Bayerischen Rundfunks; Rafael Kubelík
Urania Records WS121388 (naxosdirect.com/items/schoenberg-gurre-lieder-janácek-glagolitic-mass-534288)
This sprawling, two-disc release pairs Arnold Schoenberg's Gurre-Lieder with Leoš Janáček's Glagolitic Mass. There is an unexpected symbiosis achieved from juxtaposing the two works, both masterstrokes of their respective composers' catalogues.
The record opens with the Gurre-Lieder. Bavarian Radio Symphony and Choir and Rafael Kubelik offer a gilded rendition of the orchestral prelude, celebrating its expressionist sonorities with a vibrant, contemporary veneer to the sound profile and design. One feels that this could almost be the work of an orchestralist titan of our own century: John Adams or Kaija Saariaho. Of course, this is due in no small part to the expert insights and overarching concept Kubelik brings to Schoenberg's art; the conductor has a remarkable talent for breathing urgent new life into scores from the past, imbuing everything he touches with brilliance and finesse.
The singing itself and delivery of text is equally compelling. Every voice contributes a unique component to the narrative arc, expertly balanced and stylistically suitable to such sumptuous orchestral direction. The final installment of Part III, "The Summer Wind's Wild Hunt," proves an impressive convergence of all elements in a whirling, bristling finale where not a single musical stone goes unturned – a thrilling end to a monumental work of love and tragedy.
The second half of Disc Two is occupied by Janáček's Glagolitic Mass, JW III/9. As is typical of the composer's best scores, this music boasts laser-precise allocations of material: instruments and voices are grouped via singular senses of registral timbre and colour. The efficiency of expression here almost surpasses Schoenberg's longer work, as Janáček finds the perfect compositional solution for each verse of text and instrumental interlude.
Additionally, the composer's penchant for writing choral music is on full display – not to mention the infamous organ solo! – all expertly enhanced by impeccable diction from the vocal soloists. While more modest in scope than the Gurre-Lieder, Janáček's Glagolitic Mass is performed here with a breadth of expression and understanding that matches the lineage of pan-Slavic history and its corresponding inheritance. The darker Eastern tunes of old fittingly conclude this indomitable two-disc set, worthy of a second – and even a third – listen!