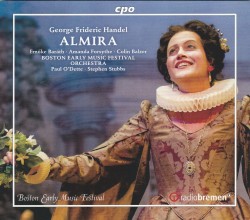 Handel – Almira
Emöke Barath; Amanda Forsythe; Colin Balzer; Boston Early Music Festival; Paul O'Dette; Stephen Stubbs
cpo 555 205-2 (naxosdirect.com)
Besides being Handel's first exercise in operatic composition, Almira (1704) is a notable, if slightly eccentric work for several reasons. Various styles and languages are mixed, with the opera including both German and Italian arias, as well as vocal dance numbers, da capo pieces and instrumental ballet inserts. The result is a colourful and surprisingly unified mixture, and the melodic signatures that we consider so typical of Handel are already recognizable.
This recording features an expert interpretation of this middle-Baroque work, as the Boston Early Music Festival Orchestra and soloists manage to synthesize Almira's Venetian, German and French influences into a cohesive and convincing musical and dramatic product. The use of harpsichord and lute in the basso continuo section provides a temporal reference point, between theorbo-based Monteverdi and the later harpsichord- and organ-grounded works of Bach.
Although Handel's later operas and oratorios receive the vast majority of modern performances, it is worthwhile to encounter an expertly performed edition of such an early work from such an esteemed composer. Much like Bach's early chorale preludes, Almira reflects the effort of an already extraordinarily gifted musical mind, which continues to be developed and refined as the years progress. This opera's apparent eccentricities aside (largely due to the traditions of the Hamburg opera, rather than Handel's own innovation), Almira is a rewarding listen for all who appreciate the style and evolution of Baroque opera.