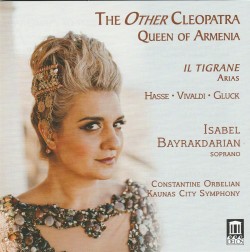 The Other Cleopatra, Queen of Armenia – Il Tigrane Arias
Isabel Bayrakdarian; Kaunas City Symphony; Constantine Orbelian
Delos DE 3591 (naxosdirect.com)
Yes, there was another Cleopatra and thanks, in part, to Isabel Bayrakdarian the wife of King Tigranes (140-55 BCE) has a bright new light shone on her. These arias are, of course, from composers who knew of her and first glorified her in opera: Hasse, Vivaldi and Gluck. What Bayrakdarian has also done as with many of her recordings, is to shed light on the historical riches of Armenia. More remarkably, however, on The Other Cleopatra: Queen of Armenia Bayrakdarian seems to sing as if with real, lived experience.
Bayrakdarian is a bright lyric soprano, but she can also swoop really low into what must clearly be the edge of a soprano's comfort zone. One such example comes with Baroque smokiness in Hasse's elegant aria Strappami pure il seno; also a wonderful example of her breathtaking eloquence and range. Chronologically Vivaldi's version of Il Tigrane (1724) was premiered first, followed by Hasse's (1729) and finally Gluck's (1743). All three operas were based on the same libretto by Abate Francesco Silvani.
Most interesting, however, is the subtle differences in the music by each of the composers. Vivaldi delivers characteristic vivacity, dazzling vocal solos with dashes of acute characterization. Gluck's demands a complete balance between music and drama and Hasse's is a highly lyrical blend of style and emotions. Meanwhile, Baryakdarian's artistry enables her to deliver each style absolutely masterfully.