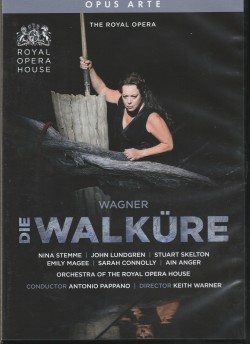 Wagner – Die Walküre
Soloists; Orchestra of the Royal Opera House; Antonio Pappano
Opus Arte OA 1308D (naxosdirect.com)
Ever since Patrice Chereau's centennial revival in Bayreuth in 1976, dozens of Ring productions have proliferated all over the world. In fact every major opera house has created one, all different concepts exploiting every possible angle: historic, sociological, psychological, philosophical etc. Rings are named after the various cities and/or the directors or the conductors. Now we have a Met Ring (Lepage/Levine), Berlin Ring (Kupfer/Barenboim), Stuttgart Ring (Zagrosek), St. Petersburg Ring (Gergiev), Vienna Ring (Rattle/Adam Fischer), Valencia Ring (Zubin Mehta), not to mention our own from Toronto. This production from London (2018) heralds a new, and judging by this Walküre, a momentous one directed by Keith Warner.
From the staging point of view it is a sound and light extravaganza, using all possible audiovisual technology culminating in the third act Ride of the Valkyries with films in the background combined with shadow play of the warrior maidens and superb choreography. The magic fire that envelops the stage is a spectacular finale. Pappano's conducting is nothing less than magnificent. He absorbs himself thoroughly in the score, and no detail is missed. There are moments of ecstasy like the first act love-duet between Siegmund (Stuart Skelton) and Sieglinde (Emily Magee) in waves and waves of passion as the "world never heard before" (Sir Simon Rattle), and at the climax when Siegmund triumphantly pulls out the sword from the ash tree, wow! Or Wotan's final embrace of his daughter Brünnhilde, a moment at which I almost cried when I first heard it.
The entire cast is phenomenal headed by John Lundgren as a powerful, larger-than-life Wotan, a very complex character, a god torn between his duty to the law he created and the love for his daughter, Brünnhilde (the wonderful Nina Stemme) whom he has to punish. A gripping Walküre, highly recommended.