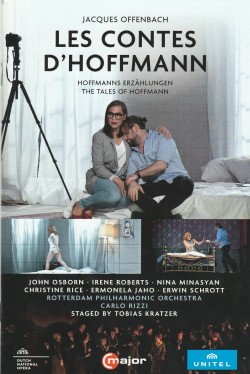 Offenbach – Les contes d'Hoffmann
Soloists; Rotterdam Philharmonic Orchestra; Carlo Rizzi
Cmajor 752808 (naxosdirect.com)
Often spoken of disparagingly in his day, Jacques Offenbach clearly knew what he was doing. With equal measure of sardonic humour and lyricism, he triumphantly invented the whole idea of the operetta, paved the way for Lehár and Sullivan, and eventually came to be called (by Rossini, no less) "the Mozart of Champs Élysées." Fusing dialogue and show-stopping pieces, Offenbach also created the can-can dance and laid the ground for the modern musical. But in 1881 he also produced his first and last opera – Les Contes d'Hoffmann – his only through-composed work without spoken dialogue; replaced by a sombre libretto instead.
Three acts recount three tales by the German Romantic writer E.T.A Hoffmann. Tobias Kratzer's spectacular staging adds a prelude and background to the story (Act 1) followed by the three acts conceived by Offenbach. The first concerns the inventor and his mechanical doll, Olympia who seduces Hoffmann. The second involves Hoffmann's other passion, the consumptive singer Antonia, preyed upon by the evil Dr. Miracle. The third tells of Giulietta, who tries to trick Hoffmann into selling his soul. The final act presents Hoffmann, liberated, returning to his muse.
The sweep of Offenbach's score is supremely caught by Carlos Rizzi in a reading that tingles with frenetic energy while bringing out the lushness of Guiraud's recitatives. John Osborn is in his richest voice, summoning the impetuous ardour of Hoffmann. Nina Minasyan excels in the bravura arias. Overall, the casting is inspired and outstanding.