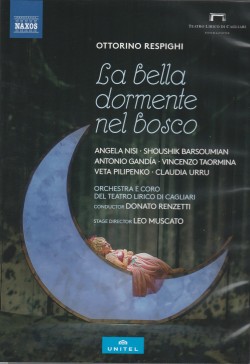 Respighi – La bella dormente nel bosco
Soloists; Orchestra e Coro del Teatro Lirico di Cagliari; Donato Renzetti
Naxos 2.110655 (naxosdirect.com)
The legendary Ottorino Respighi's La bella dormente nel bosco (The Sleeping Beauty) was first conceived in 1922. The version presented here by the Teatro Lirico di Cagliari has been enhanced from the original by Respighi's inspired orchestrations. Although he died in 1936, this fresh, emotional and fantastic rendering of the original fairy tale about the Princess who pricks her finger on a spindle, and falls into a comatose state until she is awakened by her Prince, is as new and exciting as if presented on Broadway today. Brilliantly directed by Leo Muscato (with video direction by Tiziano Mancini, Donato Renzetti as conductor and a lively book by Gian Bistolfi), this production features a broad-palleted mis en scene, which is a delectable feast for both the eyes and ears.
Featured performers include the versatile Veta Pilipenko (the Queen, Old Lady and Frog); the impossibly lovely Angela Nisi as the Princess; baritone powerhouse Antonio Gandia as the Prince and the venerable Vincenzo Taormina as the King. Clever, bombastic and magical costumes (perhaps reflecting a bit of the Comedia Del'Arte) by Vera Pierantonio Giua and choreography by Luigia Frattaroli complete this thoroughly entertaining and spiritually uplifting operatic pastiche.
Written in three acts, the piece opens with a conceptual, almost surreal appearance of birds on swings and frog-like ladies (or lady-like frogs!), and ends with the expected kiss as the diaphanous princess rises up from her crescent moon bed, and into the arms of her Prince, followed by a joyous, dance-infused number by the entire cast. Huge kudos to the Teatro, for not only presenting this nearly lost treasure of one of the world's foremost 20th-century composers, but also doing it to perfection!