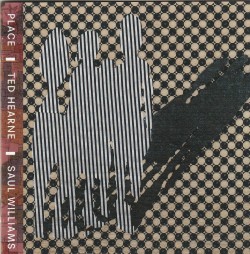 Ted Hearne; Saul Williams – Place
Vocalists; Place Orchestra
New Amsterdam Records NWAM137 (newamrecords.com)
Although the drama of Place is somewhat diminished without a visual staging (i.e. a possible DVD of a presumptive film version), its power is not diminished because of the inventive way in which its principal artists – Ted Hearne (music, libretto) and Saul Williams (libretto) – have used their respective artistic specialities. This means not only words, music and vocalizations, but also their compelling, internecine method of adapting traditional and contemporary artistic styles – from hip-hop to chamber music – and infusing this event with every possible sonic element: music, noise and pregnant silences.
Music and poetry collide in Place as Hearne and Williams describe the emotional effects that the gentrification of a city has when people and their cultural habitat are trampled upon in the name of money and modernization. Williams' poetry pulls no punches, especially regarding racism. Using this poetry, Hearne creates jagged miniatures to simulate a musical disruption of the senses that mirrors the socio-political upheaval of their city.
Some spiky, and often serrated, songs are like miniatures depicting human upheaval. This is characterized by extraordinary, jagged rhythmic flexibility. These episodes alternate between moments of tenderness and heartache, anger and despair. An ink-dark atmosphere pervades even when relative calmness is explored in The Tales You Tell Your Children. Occasionally brightness might break through, as in Hallelujah in White, but not for long. The glistening delicacy of the musical equanimity is broken in the finale, in the desperate plea against gentrification of Colonizing Space.
Editor's Note: A performance video of Place is in the final stages of production and will likely be available on a major public platform by the time this article is published.