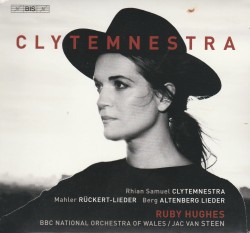 Clytemnestra
Ruby Hughes; BBC National Orchestra of Wales; Jac van Steen
BIS BIS-2408 SACD (naxosdirect.com)
The maverick Welsh soprano Ruby Hughes is the star of this alluring collection of song cycles which opens with five songs by Gustav Mahler based on the poetry of Friedrich Rückert, sung with admirable sensitivity and a clear, light voice. There are of course landmark recordings of these lieder that are richer in tone and emotionally more compelling, by the likes of Janet Baker, Christa Ludwig and Dietrich Fischer-Dieskau; nevertheless Hughes offers a youthful and well-considered take on these intimate songs.
The Viennese premiere of Alban Berg's Altenberg Lieder in March 1913 was the cause of a legendary riot. Though only two of the five songs of the cycle were programmed, a member of the audience soon bellowed out that both the composer and poet (the whimsical picture-postcard texts were authored by Peter Altenberg) should be sent to the insane asylum. In fact, the poet was already there! Fisticuffs ensued and the remainder of the concert was abandoned. The effect on Berg was devastating. A complete performance of this astounding composition, which presages advances in chromaticism (including some proto-serial elements) that foreshadow those of his mentor Schoenberg, would not take place until 1952, long after his death. This is a most worthy contribution to the limited roster of recordings of this great work.
Clytemnestra, a 25-minute song cycle by the Welsh composer Rhian Samuel, is a vivid, blood-curdling setting of Aeschylus's tale of the murder of Agamemnon by his wife. Commissioned by the BBC Wales Orchestra in 1994, Samuel's libretto is constructed solely from Clytemnestra's point of view. This is a garish, unabashedly cinematic work, massively orchestrated and incorporating some provocative electric bass guitar solos, compellingly brought to life in a riveting performance from both soloist and orchestra under the direction of their principal guest conductor Jac van Steen.