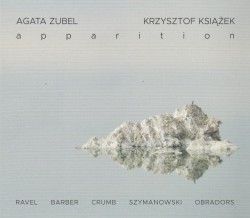 Apparition
Agata Zubel; Krzysztof Książek
CD accord ACD 263-2 (naxos.com)
The 20th century was a time of immense creativity, with the fundamental building blocks of musical composition and interpretation disassembled and reconstructed by some of Western music's most legendary figures. Apparition explores a number of lesser-known and underappreciated composers from this period, including Barber, Crumb and Szymanowski.
This disc opens with Maurice Ravel's Shéhérazade, an art song triptych based on the renowned Arabic folk tales of One Thousand and One Nights, most famously set to music by Rimsky-Korsakov. Ravel's songs feature characteristic exoticism, combining "oriental" material with impressionistic harmonies and long vocal lines, expertly interpreted by Zubel and Książek. These traditional, almost Debussian works are sharply contrasted with George Crumb's Apparition, a set of songs which combine the familiar with the avant-garde. Within this cycle, Crumb gives the singer her expected role, singing texts set to tunes, with a few exceptions such as the three Vocalises, which utilize the timbral aspect of the voice independent of textual tethers. The piano part, however, is a demanding essay in extended techniques throughout the cycle, as the pianist is required to utilize every part of the piano to produce percussive, shimmering, and rattling effects.
The remainder of this disc's contents fall between these two stylistic extremes: Szymanowski's Songs of a Fairy Tale Princess, Barber's Opus 13 songs, and Fernando Obradors' Canciones all align themselves more closely with Ravel than Crumb, bringing the 19th-century tradition of art song forward into the 20th. As a whole, Apparition is a well-thought-out and equally well-performed survey of piano-voice repertoire from the last century and well worth a listen, especially for those who appreciate the radical genius of George Crumb.