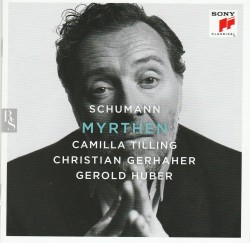 Schumann – Myrthen
Camilla Tilling; Christian Gerhaher; Gerold Huber
Sony Classical 19075945362 (sonyclassical.de)
"To my beloved Clara on the eve of our wedding from her Robert." So wrote Robert Schumann on a specially bound set of 26 recently composed songs dedicated to Clara, collectively titled Myrthen for the myrtle branches and flowers that traditionally adorned bridal wreaths.
In it, Schumann drew from nine poets, with Rückert, Goethe, Heine and Robert Burns (in translation) accounting for 19 of the songs. Schumann specified those to be sung by a woman or a man, suggesting a young couple's ongoing relationship. Here, the appropriately light-and-bright voices of soprano Camilla Tilling and baritone Christian Gerhaher are ably supported by pianist Gerold Huber.
Myrthen begins with the well-known Widmung (my favourite among Schumann's 250-plus songs); others in the set that will be familiar to many are Der Nussbaum, Die Lotosblume and Du bist wie eine Blume. Of those less-often encountered, the tender Lieder der Braut and Hochländisches Wiegenlied, the sprightly Räthsel and Niemand, and the plaintive Aus den hebräischen Gesängen are particularly gratifying. The wistful, concluding Zum Schluss promises, almost prophetically, that only in heaven will the couple receive "a perfect wreath."
Robert and Clara married in 1840, after years of obstruction from Clara's father. Sadly, their marriage ended in 1856 with Robert's early death in a mental asylum. Myrthen, Robert's wedding gift to Clara, thus represents an enduring, significant, poignant testament to what is surely classical music's most enduring, significant and poignant love story. Texts and translations are included.