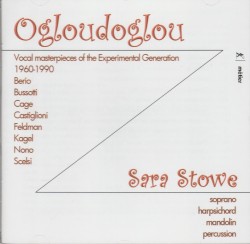 Ogloudoglou – Vocal masterpieces of the Experimental Generation 1960-1990
Sara Stowe
metier msv 28593 (divineartrecords.com)
English soprano Sara Stowe is a versatile and inventive musician with repertoire ranging from contemporary concert music to medieval song. A prize-winning harpsichordist and pianist at the start of her career, she then decided to learn 20th-century vocal music in Italy. One of her specialties is the songs of the outsider composer, Giacinto Scelsi (1905-1988), whose reputation leapt to international prominence only at the end of his life.
Ogloudoglou, titled after the song by the same name by Scelsi, is a skillfully curated album focused tightly on 11 art songs from 1960 to 1990 by what Stowe calls "the experimental generation." She renders boundary-stretching songs by Italian composers Scelsi, Luciano Berio, Luigi Nono, Niccoló Castiglioni and Sylvano Bussotti, as well as one each by the Argentine-German Mauricio Kagel and Americans John Cage and Morton Feldman. And experiment they did.
Outstanding tracks for me are Nono's cinematic, epic La Fabbrica Illuminata for voice and tape, and the more concise, though perhaps even more musically compelling, Sequenza III by Berio. The latter is beautifully rendered by Stowe – and I've heard Cathy Berberian, for whom it was composed, perform it live.
Breathtakingly iconoclastic, perhaps even shocking when brand new, this tough song repertoire is little programmed today, at least in Canada. Stowe thus does us a favour, presenting her recital of songs by seminal later-generation high modernists with virtuoso verve. She committedly follows their demanding performance instructions and groundbreaking aesthetics, by the end winning over those who care to listen with her exhilarating musicality.