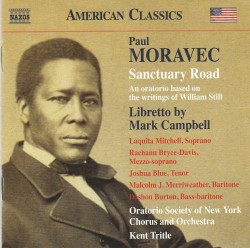 Paul Moravec – Sanctuary Road
Soloists; Oratorio Society of New York Chorus and Orchestra; Kent Tritle
Naxos 8.559884 (naxosdirect.com)
Stories of the plight of the African slave in the US have echoed in the secrecy of the Underground Railroad for hundreds of years, the best of them recounted in prose, poetry and, somewhat recently, also in film. Musical stories – sung in the style of classic and modern blues and extended narrative jazz compositions – have also been heard. However, the operatic stage with live characters offers a distinctly different canvas where some of the most uplifting stories of the escape from slavery have been told.
In this most recent one, Paul Moravec and Mark Campbell have come together as musician and librettist in Sanctuary Road, to recreate epic narratives of William Still's book The Underground Railroad. This is a powerful work, layered with meaning, rich in detail, tragedy and triumph and, above all, cathartic pathos. All of this takes more than the stories themselves. It takes a fabulous cast, which Moravec and Campbell have found in the singers and musicians of the Oratorio Society of New York Chorus and Orchestra directed by Kent Tritle.
On Sanctuary Road Still's narratives rise to a rarefied realm thanks to compelling performances by its soloists. Soprano Laquita Mitchell is radiant, mezzo-soprano Raehann Bryce-Davis is mesmerizing, and tenor Joshua Blue, baritone Malcolm J. Merriweather and bass-baritone Dashon Burton are spellbinding. Each of the soloists palpably evokes the suffering and joy of those who escaped to freedom from the American South into Canada.