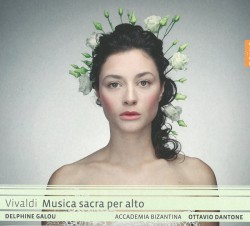 Vivaldi – Musica sacra per alto
Delphine Galou; Accademia Bizantina; Ottavio Dantone
Naïve Vivaldi Edition Vol.59
(vivaldiedition.com)
Unlike Bach and Handel, Vivaldi's instrumental works continue to be better known and more frequently performed than his vocal and choral music, though this imbalance is slowly being rectified. History is partly to blame for this, as even the renowned Gloria was only reintroduced in 1939; but Vivaldi is now considered a versatile and highly innovative composer of vocal music, a reflection of his ambition to become a universal composer who excelled in every aspect of his art.
One significant contributor to the propagation of Vivaldi's vocal music is the Vivaldi Edition, an ambitious project to record 450 of the Italian composer's works, many of them unknown. Musica sacra per alto is volume 59 in their collection and features four sacred pieces for alto with orchestral accompaniment, ranging in size from small-scale mass segments lasting only a few minutes (such as the two introdutioni, which resemble solo motets in a form unique to Vivaldi) to the five-movement Salve Regina.
Contralto Delphine Galou and the Accademia Bizantina give convincing performances of each work on this disc, whether a languid aria or compelling allegro, uncovering the distinctly Vivaldian characteristics on the page and translating them into spectacular sounds. Although the material may be unfamiliar to many listeners, the style is unmistakable and this disc provides a fine example of why Vivaldi's reputation as a composer of vocal music is continuing to grow, due in large part to the work of organizations such as the Vivaldi Edition.