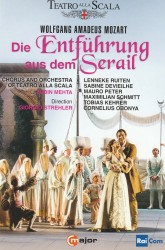 Mozart – Die Entfuhrung aus dem Serail
Soloists; Chorus and Orchestra of Teatro alla Scala; Zubin Mehta
Cmajor 752008 (naxos.com)
This production is a replica of a 1965 Salzburg performance designed by famous Italian director Giorgio Strehler which was so successful that the audience refused to leave the theatre. Since then it has been revived periodically and now again to commemorate the 20th anniversary of the director's death. A young firebrand, Zubin Mehta, conducted then and now, at age 80, is conducting it again.
It certainly lives up to expectations: an impressive, monumental and symmetrical set bathed in sunlight suggests an atmosphere of dreaminess. The singers are lit alternately from the front and the back creating silhouettes as if we are watching a shadow play such as was fashionable in the Vienna of 1782 when this singspiel, Mozart's first breakthrough success, was premiered. There is strong artistic control over all elements, e.g. costumes, colours, carefully choreographed movements and gesticulations, all coming together beautifully; the mark of a great director's work.
The crowning achievement however is the singers and they all are of the highest quality. First and foremost, Dutch soprano Lenneke Ruiten, as Konstanze, is simply unbelievable in the three concert arias that follow one another and culminate in the magisterial, defiant and very difficult Martern aller Arten, sung with sustained, powerful high notes and without any trace of vibrato. This is a focal point of the opera, photographed from every possible angle, conductor's included; it's worth buying the video for this one aria alone.
Swiss tenor Mauro Peter as Belmonte, her lover, is a revelation. He is referred to as a "real discovery, a classic Mozartian tenor with warmth and style." And there is Osmin, the basso profundo malevolent palace guard portrayed hilariously by Tobias Kehrer. An eye candy of a production.